New 2022 Hyundai IONIQ 5 SUV in Salem, OR
Look to the Future with the All-New 2022 Hyundai IONIQ 5
When you buy a new vehicle, you won't always account for the costs outside of the price tag on your new vehicle. Filling up on gas is a charge you don't always plan for but will need to do periodically as your gas runs low. Why not avoid the long-term costs of a gas-powered engine and go with a more modern way of driving - like the all-new, all-electric 2022 Hyundai IONIQ 5! This unique SUV offers a new way to enjoy your drive, helping you avoid trips to the gas pump. Explore the lineup below and see what you can expect from your time in the driver's seat.
Experience a New Way of Driving in the Hyundai IONIQ 5
The need for gas fill-ups and oil changes is a thing of the past with the new IONIQ 5 SUV. Rear-wheel options come standard with a 168-kW motor that makes 225 horsepower and offers an estimated range of up to 300 miles. For more power, the all-wheel drive model sports a 74-kW and 158-kW dual electric motor configuration, delivering 320 horsepower and up to 269 miles of estimated range. Thanks to regenerative braking and at-home charging capability, you'll never need gas again to get going.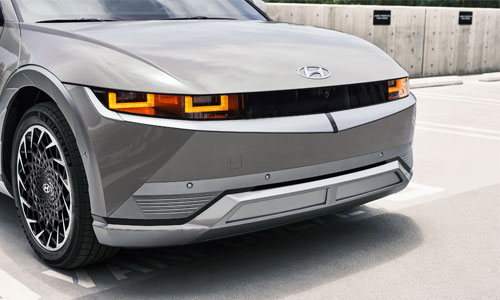 Interior and Exterior
The futuristic look and style of the IONIQ 5 SUV are sure to make you the talk of your friends and neighbors. Pixel-inspired headlights cut a clear path through your nighttime drives. The clamshell hood is more than just a unique look - it's also aerodynamically designed to improve your performance.
Inside, seating for five passengers is made more spacious thanks to the lack of a gas-powered engine. Luxuries like heated front seats and leather-trimmed surfaces add a touch of class to your drive, and the panoramic moonroof will help the sun filter in.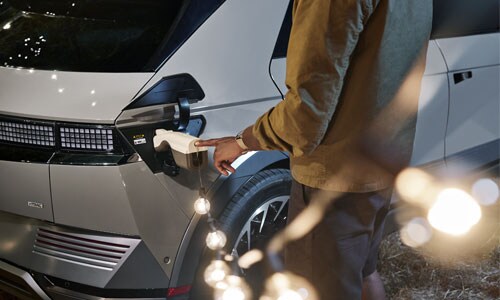 Advanced Charging Technology
It wouldn't feel like a vehicle of the future without numerous features innovative and intuitive. The ultra-fast charging capability delivers a 60-mile range in under five minutes. The charge capacity will go from 10 to 80 percent in under 18 minutes - a quick charge so you can hit the road quickly! More than just a fast-charging SUV, the IONIQ 5 sports a two-way onboard charger, wireless device charging, and Dynamic Voice Recognition, which allows you to roll your windows down, pop your trunk, heat your seats, and more with highly-tuned voice command!
Safety Features
Confidently navigate the roads around you with the Hyundai SmartSense safety package. This suite of driver assistance features includes Smart Cruise Control with Stop & Go, Driver Attention Warning, and Forward Collision-Avoidance Assist with Pedestrian Detection to guarantee peace of mind.
Ready for a drive like no other? Visit Withnell Hyundai today to learn about the new 2022 Hyundai IONIQ 5!